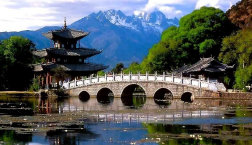 Up to 30 minets of my time free for the asking
via Skype or Telephone






I make myself available on a per hour/day basis for Q&A sessions with small groups of managers and professionals from associations, businesses or corporations, chambers of commerce or professional groups. These consultations are most effective if they are limited to ten people or less. The discussions generally center on how you might better understanding dealing with the Chinese concept of Guanxi, the "Relationship" business culture and how it differs from American transactional culture in negotiations.
I have been doing this China commute for 28 years (since 1991) and have interfaced with government and business leaders in Beijing, Tianjin, Shanghai, Guangzhou and many other cities throughout China.
Want to better understand the Pros and Cons of dealing with China in the 21st Century ???
I have a few of the answers to these questions and would welcome an opportunity to share my first hand China experiences and observations with you.
Advisor & Consultant China Business Culture
For many years I held an office at the headquarter's of China's Western Returned Scholars Association Entrepreneurs Alliance in Beijing. The WRSAEA is one of China's premier think tanks. I served as Senior Advisor to its Chairman.
Want to better understand why China is what it is and why it does what it does ???
Free Consultation
China Bound for 28 Years
Since 1991
Q&A Group Consultation
Currently I am Semi-Retired and living the good life in the mountains of Colorado. I still visit China several times a year and maintain my contacts and relationships
Now I look forward to lecturing and teaching
Semi-Retired and living the good life in the mountains of Colorado.
I look forward to lecturing and teaching
Processed Beef and Pork Sales
China offers both opportunities and challenges for American Business Interests in 2020 and beyond
2020 Opportunities EMS & Meat
Emergency Medical Services
Air-Evac Services & Equipment
Air-Evac Helicopters & Aircraft